This tier list for Cavalry artifacts will give you the general ideas of the best to invest on your cavalry marches in Call of Dragons to save your time and effort.
We will rank them in different categories, from S tier (the strongest artifact) to D tier (the weakest artifacts).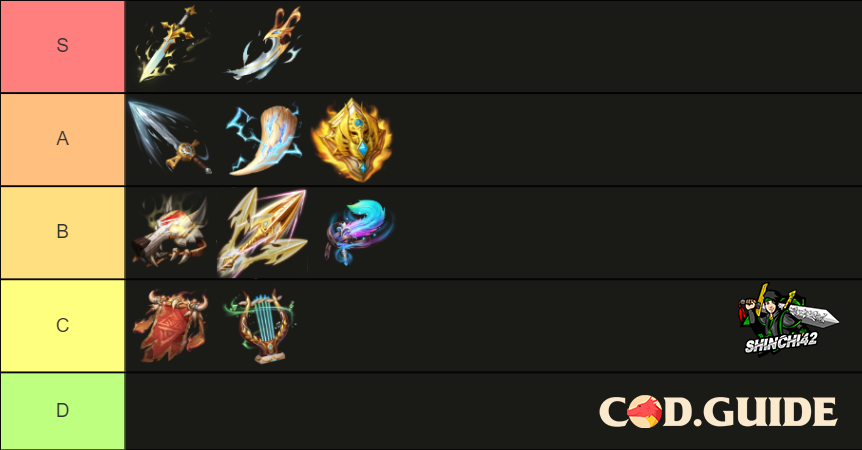 Best Cavalry Artifacts in Call of Dragons (Legendary)
Tier S
King Slayer: Excellent for T4 to wreck T5. Offers Cavalry attack and Legion attack at the same time. The most important thing is, whenever the target unit is less than 10% remaining, it's taken out immediately.
Springblades: The new super strong artifact for Cavalry, offering passive Keen buff (+15% ATK) and dealing damage to multiple Legions. Perfect for Emrys. All-around artifact.
Tier A
Sorland's Blade – Offers Cavalry attack and marching speed. A solid choice but not S tier due to the lack of damage compared to the others.
Fang of Ashkari – Great for PvP and tanking. Deals damage to surrounding units. If somebody is trying to destroy your flag, you can come in and out of a base and activate the artifact skill to deal a lot of damage.
Visage of Sanctus – Suitable for flying units, offering shield, defense and attack bonuses.
Tier B
Wolf-Woman of Haelor – Decent but not widely used. Good for rallying as a whale to attack enemies or Passes. You just need to level it up for extra HP. No need to increase its skills.
Springbird Feather – Giving some nice stats of marching speed. Good for hunting but not big clashes.
Storm Arrow – Good for getting from point A to B but situational.
Tier C
Rally Banner – More specific to rallying, not the best investment.
Breath of Forest – More situational, not the best investment as it focuses on the garrison.
Epic Artifacts
We only rank Legendary Artifacts are they are harder to get and upgrade. Most Epic artifacts in the game right now are easy to get.
Cloak of Stealth: Excellent for hunting, a versatile choice for many players.
Homecoming Blossom: Known for providing extra marching speed, a valuable asset in various scenarios.
Amulet of Glory: More suited for peacekeeping, it also offers some Cavalry HP.
Blade of Reproach: A good option for peacekeeping, providing cavalry attack and damage.
Centaur Bow: One of the best Epics for Cavalry defense.
Conclusion
This tier list provides a comprehensive guide to the best Cavalry artifacts in Call of Dragons. Whether you agree or disagree, your thoughts and explanations are welcome in the comments section.
This guide aims to help players succeed in the game, and your input can improve it.