By following our Call of Dragons Tier List for the best heroes, you can easily maximize time and investment, especially if you are free-to-play players.
When selecting a hero to invest in COD, make sure you understand whether you are free-to-play or pay-to-win, and what your in-game goal is.
If you don't have a specific goal, focus on the best Epic heroes first for maximum performance. Working on Legendary heroes is only recommended for free-to-play players after getting to Honorary level 8.
With so many unique heroes in the game (and still getting updated monthly), there are always the ones that are much better than the others.
The game is also ever-evolving as developers always want to keep it fresh with a lot of balance changes. You will usually find the hero abilities getting adjusted from time to time.
It's always recommended to spend some time checking our Call of Dragons tier list to understand the best-performing heroes in the game for saving your time and resources.
Call of Dragons Tier List
| Hero | Tier | Units | Buffs | Role |
| --- | --- | --- | --- | --- |
| Liliya | SS | Magic | Peacekeeping | Skills |
| Hosk | SS | Overall | Rally | Precision |
| Madeline | SS | Overall | PvP | Tank |
| Kinnara | SS | Marksman | PvP | Control |
| Emrys | S | Cavalry | PvP | Mobility |
| Nico | S | Marksman | Engineering | Precision |
| Velyn | S | Magic | PvP | Control |
| Bakshi | S | Cavalry | Peacekeeping | Skills |
| Theia | S | Overall | PvP | Support |
| Nika | S | Infantry | Peacekeeping | Skills |
| Garwood | A | Infantry | Garrison | Tank |
| Waldyr | A | Magic | PvP | Skills |
| Gwanwyn | A | Marksman | Peacekeeping | Precision |
| Eliana | B | Overall | Peacekeeping | Support |
| Alistair | B | Cavalry | Rally | Tank |
| Alwyn | B | Magic | PvP | Control |
| Kregg | B | Marksman | Engineering | Mobility |
| Atheus | B | Magic | PvP | Mobility |
| Ordo | C | Overall | Engineering | Tank |
| Indis | Gathering | Overall | Gathering | Support |
| Pan | Gathering | Overall | Gathering | Support |
| Kella | Gathering | Overall | Gathering | Support |
| Chakcha | Gathering | Overall | Gathering | Skills |
Call of Dragons Hero Tier List Grades:
Tier SS – Very Overpowered. They are the best of the best heroes in Call of Dragons at the moment. With their exclusive OP skillset, they can easily dominate the other legions in any battle. Liliya and Hosk are only available via Honorary Chests. Kinnara and Madeline are great choices in long term to invest If you are free-to-play players.
Tier S – Overpowered. They are very compatible with tier SS in term of effectiveness. All you need is to give them the optimal talent trees and they can easily dominate the battle field.
Tier A – They are not as excellent as heroes on tier SS and S, but they are great for their jobs. Give them a great hero pairing and they will make you proud!
Tier B – Alternative to Tier A if you don't have any better choice. You normally want to have them awakened if you want to make they shine on the battle-field, which might require a lot of resources before the late game.
Tier C – Pretty bad.
Tier Gathering: Only for gathering and other small jobs.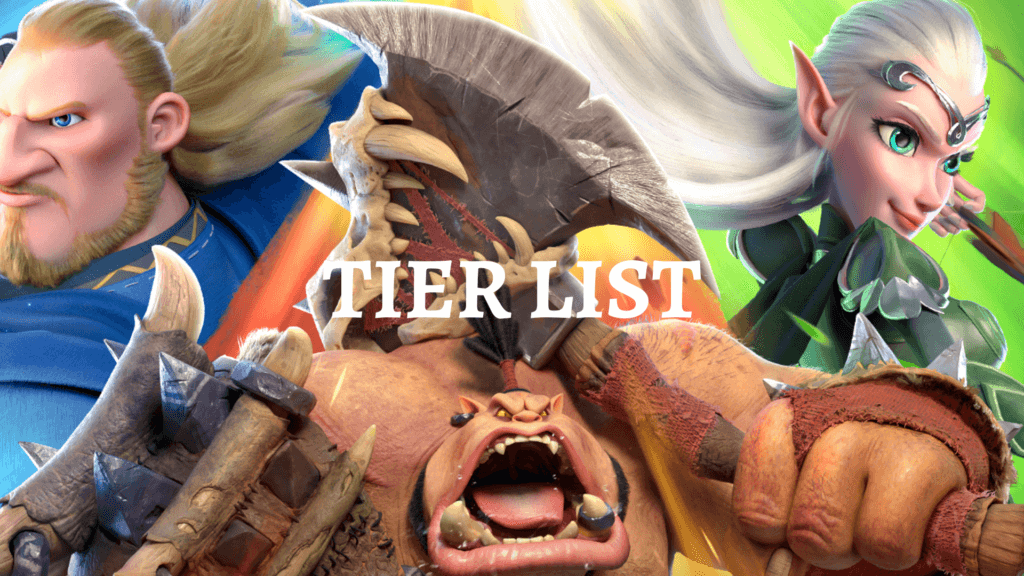 Call of Dragons Tier List Explanation

Hosk
Currently the best hero in Call of Dragons at the moment. He works excellently in pairing with any other hero, especially Gwanwyn.
Only the counterattack damage, legion capacity, and bonus damage can make him a great option to pair up with any other heroes.
However, he is, unfortunately, a pay-to-win hero, meaning you need to buy the bundles in order to acquire Hosk. If you want to spend money in the game, it is highly recommended that you get your hands on a Husk as soon as possible, and you will never regret it!

Liliya
Liliya is an outstanding Mage hero for those who want to focus on mage units, thanks to her excellent nuking capabilities – especially her first skill.
Similarly and unfortunately, she's currently only available by purchasing packs from the VIP shop. However, she is still very useful at 5-1-1-1, giving you easily more power than most Epic heroes. If possible, max her 3rd skill as it gives a ton more stats.
So, if you want to spend a little bit of money on the game, get her first skill maxed, and you will find how amazing Liliya is.

Nika
The Legendary infantry hero Nika is another incredibly excellent hero at the start.
Her peacekeeping talent and skills make her a great choice to level up other heroes fast, especially infantry heroes that can pair well with her.
Nonetheless, as a Peacekeeping commander, you shouldn't put a lot of effort into working on her if you are a free-to-play player. The other Epic peacekeeping commanders are better options for you.

Madeline
Madeline is the best infantry pick in Call of Dragons at the moment. Her greatest advantage comes from the first ability, which offers impressive protection, counter-attacks, unit summoning, and many other buffs.
Madeline can easily keep you alive in huge combats and contribute hugely to PVE content, like when farming Darklings or Behemoths.
Whether you're a free-to-play player or a more dedicated player, Madeline is the hero you need if you want to focus on Infantry.
It's best to couple her with Garwood or Bakhar.

Garwood
Garwood is indeed an incredible infantry champion, but he is not viable for all players.
He is in the A-tier due to the fact that he is exclusively effective for PVE and tanking Behemoths. He offers great healing and could tank 3 Legions. On the other hand, his performance in PVP is below average, which is why many F2Ps would be spending hero tokens on upgrading him.
Many other infantry heroes in-game and upcoming ones would be much better options for PVP. Therefore, If you are free-to-play players and want to focus only on PvE, he would be a great option. But If you want to join PvP combats, save your hero tokens for the other better options.
He really shines at 5-5-5-1, and is crazy good when awakened.
It's best to use him with Bakhar.

Emrys
Emrys is one of the best cavalry commanders in Call of Dragons, giving you super high marching speed to take out ranged units like mages and ranged units faster.
He also has incredibly high damage output, and the Watcher's Blade ability allows you to use him for hit-and-run tactics.
Many gamers like using him to hunt enemies who are farming or AFK. So if you like cavalry units and hunting farmers, Emrys is the perfect pick for you!
He doesn't have a lot of HP so make sure you don't use him in big battles.
It's best to couple him with Alistair, Hosk, or Bakshi.

Indis
Indis might not be a great champion in the realm of PVP, but she is free. If you don't have other better alternatives, you can use hero for the support roles. However, her abilities do not quite compare to those of other champions. It's best to use her for farming resources only.

Theia
Theia is a top tier hero when fighting with flying units. Not only does she offer decent damage, but her ability to stay alive for a prolonged period of time is super impressive.
Moreover, once you have unlocked her expertise skill, she becomes a lot more useful as she can throw two shields simultaneously at the allies nearby.
Investing in Theia is a must if you are a fan of flying units; her ability to stay alive and protect other units makes her totally worth it.

Bakshi
Bakshi is a unique cavalry commander. He offers exceptional nuking capabilities and excellent survivability from the 30% HP bonus, which is quite a lot for all cavalry units.
He's a great choice to help you do sneak attacks during the early game as well as the start of any new season.
He will never disappoint you!

Gwanwyn
Gwanwyn is the ultimate epic hero in Call of Dragons. Many average players have discovered that she is the one all others always find hard to play against, given her remarkable damage output for an epic-level hero.
The great news is that her level will come up quickly as she is a peacekeeping commander. You can also max her out very fast with free hero tokens from normal daily activities and quests.

Waldyr
Waldyr is the first mage hero that you want to focus on, especially if you're a free-to-play player.
Unlocking his full potential will skyrocket your gaming progress by a lot, since has a huge attack range, AoE damage output, and stat boosts that let him dish out even more damage and enhanced sustainability.
Do your best to max him out as soon as you can, and you'll thank yourself for it in the early phases of the game. He remains one of the strongest heroes for free-to-play players in mid/late stage of the game.

Alistair
Alistair, an Epic hero, isn't great compared to the other cavalry heroes in Call of Dragons. It's only worth it to use him if you have no other choice or if you are just focusing on farming with a limited selection of heroes to choose from.
He is great for marking tasks like moving on the map, collecting manastones, etc.

Eliana
Eliana is an effective choice during the early game stages, strengthen your team easily with her notably strong survivability and defense boosts.
As a free hero, it's always recommended to do your best to max her out first as soon as possible as he is a viable pair for everyone.
As you move further into the game and start accumulating more powerful legendary heroes, it may be time to consider replacing her, but it will take a ton of time.

Bakhar
Bakhar is unfortunately not a great pick for PVP as his current kit simply isn't advantageous enough to justify investing any time or effort into mastering him. We think that he will receive a lot of great buffs in the upcoming updates.
However, if you don't have any other option for infantry, go with him, but don't spend all of your hero tokens on upgrading his skills.

Kregg
Kregg is a viable option for your flying march during the early game which offers a heavy damage output. Whenever you find yourself in need of flying Legion and have no available pairing, Kregg may be the perfect solution for you.

Atheus
Atheus may not be one of the best aerial heroes, but he is Epic, which makes him suitable primarily for new players.
Unfortunately, you should still be on the lookout for a suitable replacement if often engage in PvP activities.
How do we test & Create this Call of Dragons Tier List?
The top players from our Alliance and our friends from different servers have been helping us finding the best heroes for this Call of Dragons tier list.
We have taken a lot of measures to ensure the accuracy of our results by testing with high-end accounts in different activities in the game, from PvP to PvE.
However, it's still very hard for everyone to take into account every factor while testing, such as buffs, debuffs, casting probability, etc. We always recommend don't overlook and just enjoying the game in a general way. There are a lot of perfect situations that can make a hero shines, but sometimes it doesn't.
Do note that this hero tier list for the game Call of Dragons might be a helpful source for you, but everyone has their own opinions. That's why we always recommend sharing your own testing experience in the comment section below to help us improve this further.
We also always recommend players do their our testings. This will help give you a better insight as to how the game works, improve your knowledge of counters and hero matchups, and round out your general understanding of the game.
When you finally decide on the heroes you want to use, remember to follow our optimal talent trees and learn how to level up them fast.
Why Should I Trust This COD Tier List?
Do you want to be successful in the game with ease, save your time and your effort, but don't know which heroes to focus on? Don't worry! This hero tier list ranking system would be a helpful source for you.
We help you save time, effort, and a lot of money as well as resources in the game.
By following this list, you will never have to guess which heroes would work best for you, or have to spend a lot of time testing them. You can just select the most suitable heroes from our list above and start working on them immediately.
This can save you a lot of time and energy as you won't waste resources on underpowered heroes.
Some heroes are more expensive than others as it requires more hard-to-find resources to upgrade, but the tier list can help you determine which heroes are worth the extra cost.
We always test out the new heroes as soon as possible to make sure that you stay up to date with the latest hero releases and updates. The game is constantly evolving, and the tier list will always be updated to reflect this.