Behemoth Hunter is definitely one of the most interesting events that make Call of Dragons differ from every other MMO RTS games. What is more exciting than capturing giant beasts with your Alliance members, collecting a lot of rewards, and using those beasts later in Alliance fights?
Raid Behemoths for massive rewards and bonuses!
Click at each of the Behemoth below to get to their section directly.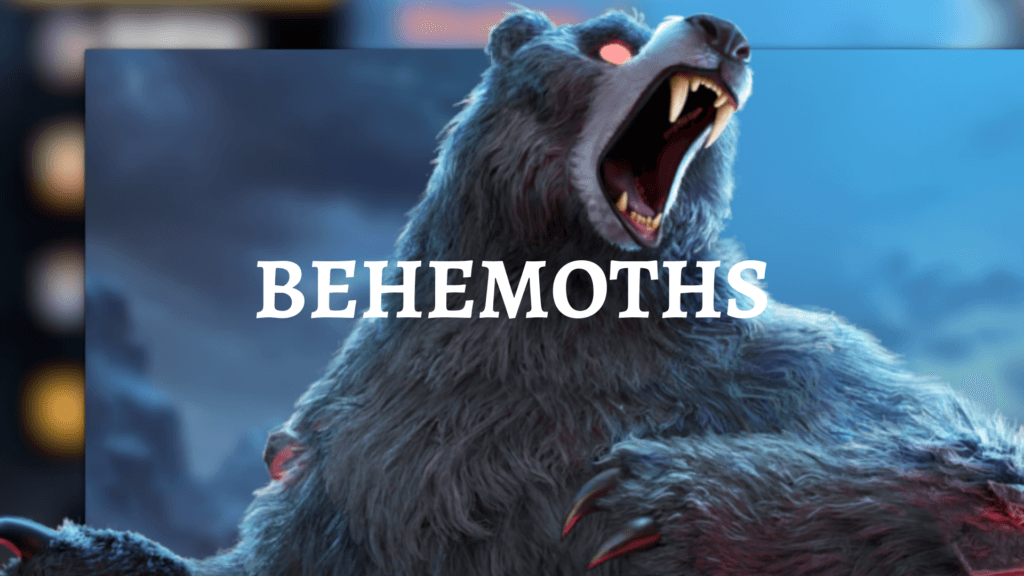 Table of Contents
Behemoth Hunter Event Rules
Manastone fragments have scattered like meteors and embedded themselves into the flesh of these ancient creatures. As they have been driven mad, so too has their nightmare extended to the territory surrounding their Lairs. For a fledgling Alliance, Behemoths are both a threat and an opportunity. A brave Behemoth hunter can purify these beasts, and in return for being freed from the powers of darkness, they will happily aid in combat.
1. Build Alliance Towers to extend your Alliance's territory until it borders a Behemoth's Lair. After the protection countdown has ended, Alliance members can attack the Behemoth inside their Lair.
2. Purified Behemoths can aid your Alliance in battle. The first time a Behemoth is purified, all Alliance Members will receive massive rewards.
3. If your Alliance occupies certain Behemoth Lairs within a given amount of time, all members will have a chance to receive an extra reward from their Augurstone. Check your Augurstone for details.
Behemoth Hunting Rules
Behemoth Raid will become available once every 48 hours. During the Raid, all Alliances can take on the Behemoth. The Alliance that successfully purifies the Behemoth, occupies its Lair, and defends it for 4 hours will gain control over Behemoth.
Members of the first Alliance that purifies a Behemoth and occupies its Lair will gain rewards. Members who take part in the battle will gain extra rewards.
After purifying a Behemoth and occupying its Lair, it will help your Alliance to defend the Lair. The Alliance can also summon the Behemoth to aid them in battle.
Purified Behemoths will begin at the lowest ability level. Training a Behemoth will increase its Skill Level and the duration it can spend in combat.
Behemoths can bring huge buff effects to an Alliance, but Behemoth buffs of the same kind do not stack.
All units that are severely wounded while fighting a Behemoth will be sent to your Hospital.
Different Behemoths allow various Raid Legion Limits.
You can only claim one First Occupation Reward for purifying Behemoths that provide the same buffs.
Quick Guide to Defeating Behemoth Beasts
Tap on Behemoth avatar to see the complete guide to defeating them.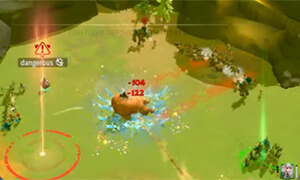 Careful with the red marked area, the legion could tank normal attack, and the team set with 1-2 tanks and other range damage could easily handle.

Careful with Giant skill, it will strike 90°area damage, then clockwise-move strike 4 times to total 360°area.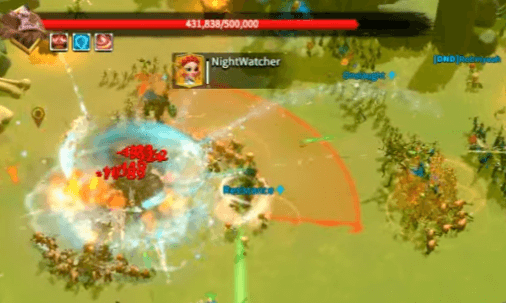 The first strike is hard to evade, but the second strike will follow in a clockwise move so you can easily predict and dodge.
Another skill will create spikes within 3 directions to blow up players. Attention to charge time, move out while Giant is charging.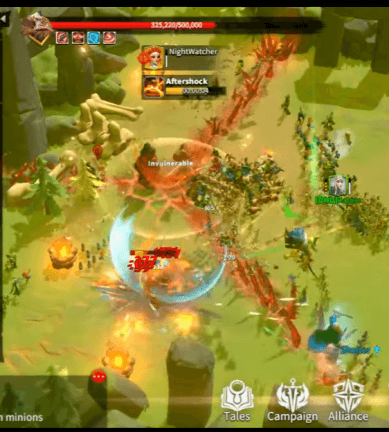 Meanwhile, some small creatures will spawn around, defeat them to get items that heal players.

Medium difficulty but in the early game with a leak of tech situation, it's quite hard to defeat.
Form 1: Normal State
Be careful with the area damage in the pool, it's DOT damage.
Solution: there are 4 pools in total, monster will fly up and then spit a red thunderbolt to 2 of the 4 pools, so don't stay in charged pools!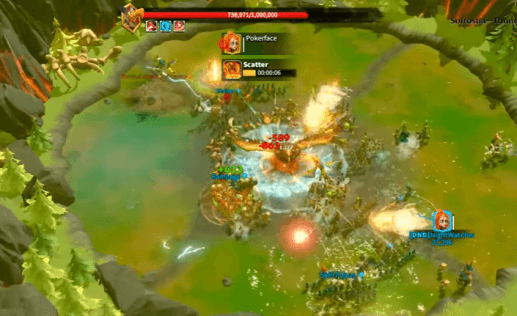 Form 2: Thunder Roc flying up
There will be rocks in the pools, which need 10 units to collect, after collecting will have an area for healing, and monster-only land after collecting.
Follow the leader in collecting rocks and also be careful with the thunder bolts.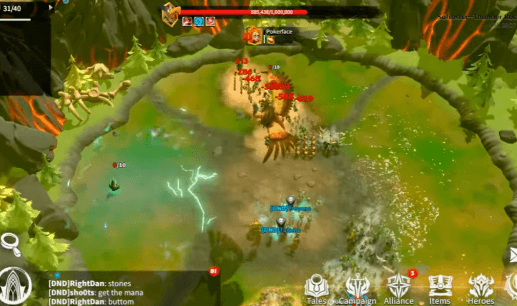 The second skill that you need to pay attention to is random red circles coming out in players, separate out don't stick together, and do not tank it.

Skill 1 spits poison damage to front 3 areas, easy to dodge as the skill has charge time.
Skill 2: There are poison areas that you have to have units standing on them to stop outburst. If there is no player standing on it, all units will be poisoned later, so use one Legion to tank for the whole team.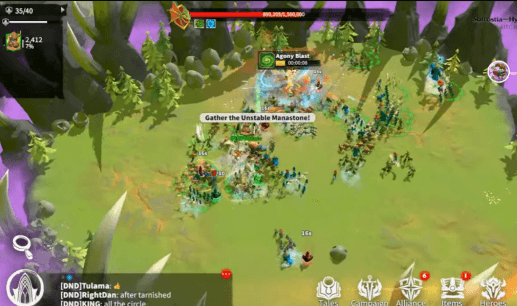 Pick rocks, it will remove the debuff and heal
Red rock must pick, countdown without pick will explode.
After picking, players will have one buff and one debuff: Positive buff increases 25% damage to the monster, while debuff has 2-layer poison. Be careful with poison layers.

Upgrade version with Giantbear, quite similar but much stronger.
When monster uses skill, it will release poison mist at the same time. Stay away with mist and try to make the bear stay in one location to avoid poison mist cover whole maps.

Necrogiant will mark 2 legions to attack(mark the legion who damage Necrogiant first), so it's best pick tank unit attack first to tank the coming damage.
Necrogiant combo with giant so you need at least 2 tanks, if two bosses stand too close to each other, they will have buff, so keep bosses have enough disatance.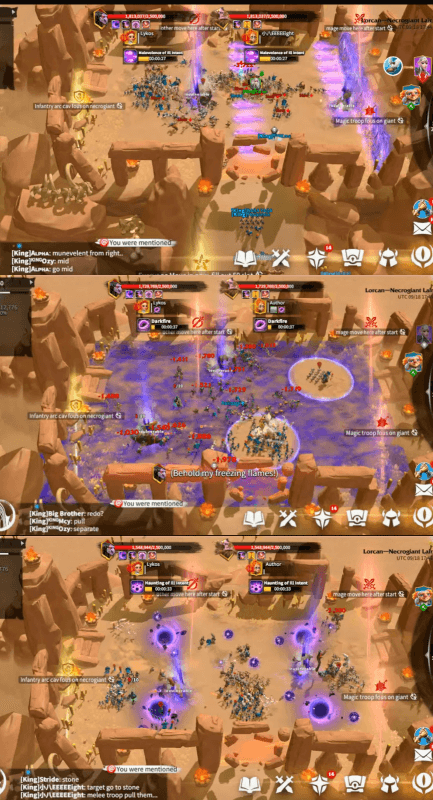 Skill 1 have huge damage, so players who are bad with movement will need to equip magic shield top tank it.
Poison circles: Marked players have protection circle close to them to avoid poison damage.
Skill 3 launches 4 giant poison balls and 4 mini poison balls, dealing huge DOT damage. Solution: Hide to corner to watch the ball's movement.
Other skills are repeated, so be careful with movements should be ok.

Total seperate 4 magma monsters, each monster will release area burnning effect. Each monster's burnning effect are different so move to next monster when you have the effect. Have 5 same effects will get you to death.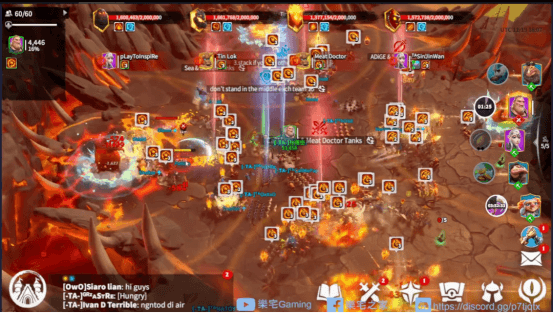 If one of the monster range have no Legion inside then the whole team will get that monster's burnning effects. When you reach layer 4 effect, move out from middle and wait the effect to get disappeared, then back to fight.

You need to dodge the 1st skill, charged flaming. Skill 1 is quite easy to evade deal lot damage to front area but with a long charge time.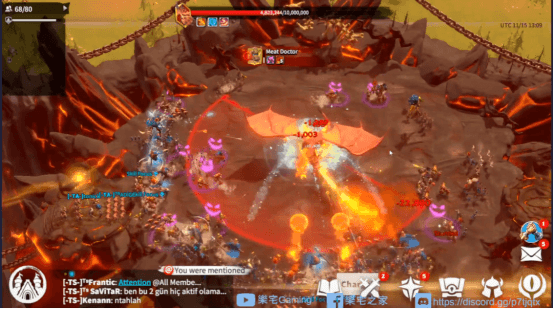 Killing creatures first to avoid them close to each others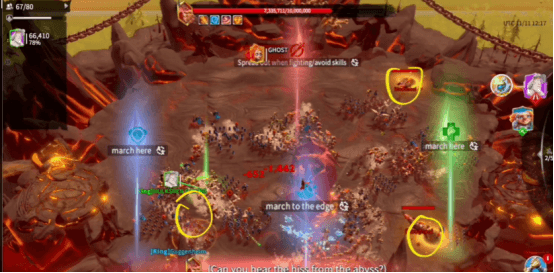 Create burnning land deal DOT damage, try to evade it while dragon take off.
The last skill is dragon roar, which creates a circled purple mist, legions with that rage will forced random move. If the Dragon releases flaming, this time team will be wipe out, so dodge this mist.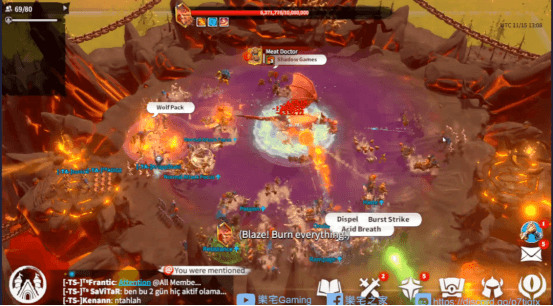 Alliance Behemoths
After capturing the Behemonths, Alliance leader and officers can summon them for various game content.
Behemoth Summoning Rules
When summoning a Behemoth, you must select a Stronghold for it to attack or defend.
An Alliance can only summon one Behemoth at a time.
A Behemoth's attributes, Skill strength, and Duration are determined by its Training Level.
A summoned Behemoth will enter cooldown after battle. You must wait for this cooldown to end before summoning it again. Alliance Members can continue to donate Behemoth Points during this time.
Summoning more powerful Behemoths requires additional Behemoth Points.
Behemoth Training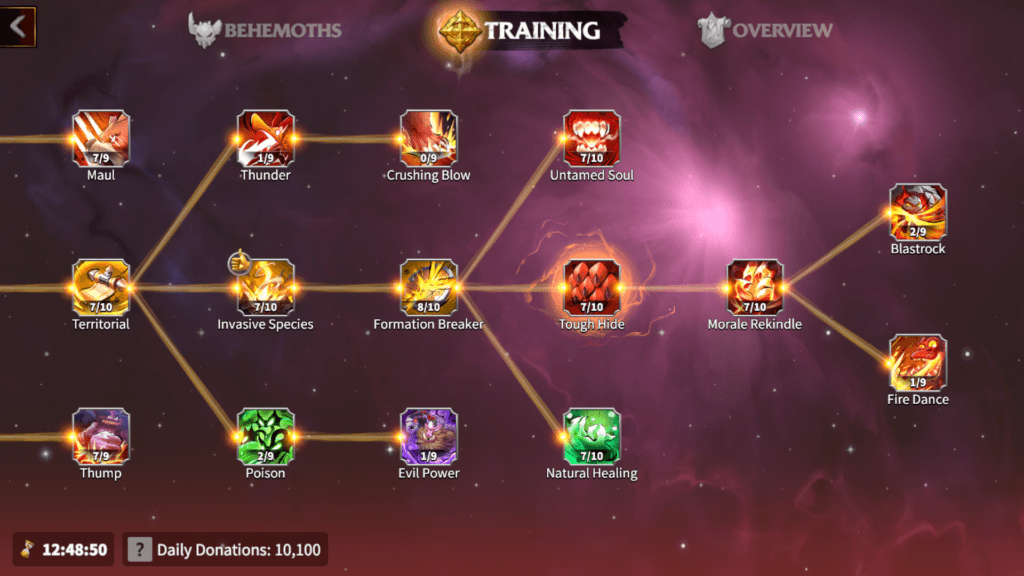 Together, Alliance members can use Mana to donate to the Technologies to improve the Behemonth power.
Donate resources to help your Alliance gain Research Points and Behemoth Points, and you will receive a corresponding amount of Member Points.
Reach a daily total of 10,000 Member Points to be ranked in your Alliance's Daily Points Leaderboard, and get rewards.
Reach a weekly total of 50,000 Member Points to be ranked in your Alliance's Weekly Points Leaderboard, and get rewards.