Crucible of Courage is a very interesting event that offers a lot of gorgeous rewards. During this event, players will need to summon the preset troops next to the city and defeat them.
The higher level the troops are, the harder it gets to defeat them.
After defeating level 5, 10, 15, 20, 25, and 30, players will receive a ton of valuable rewards.
Event lasts for 3 days.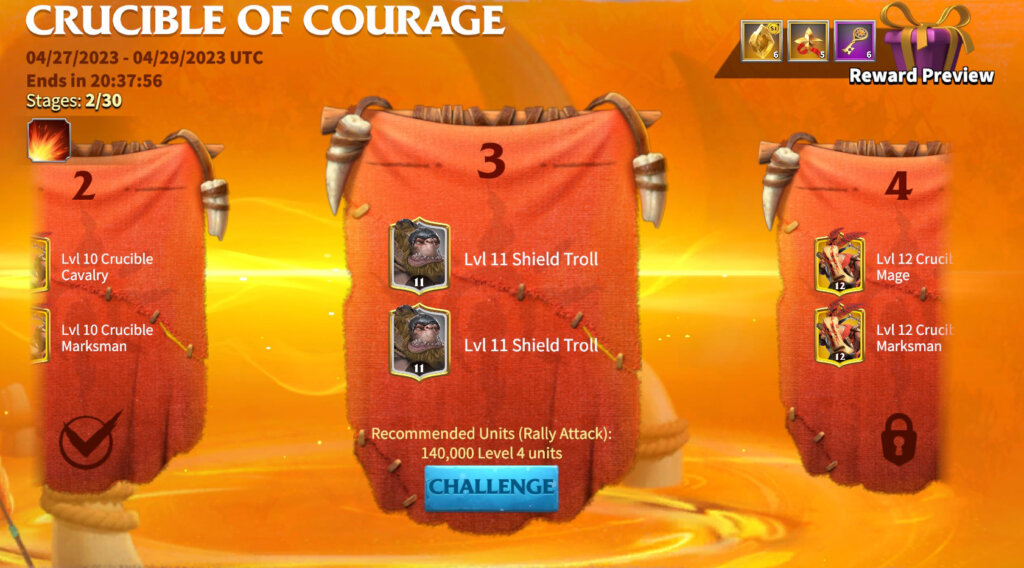 Crucible of Courage Event
A series of challenges await you during this event. Complete each challenge to unlock the next one. Elite Stages are more difficult than Standard Stages—form a Rally with your fellow Alliance Members to take them on together.
Defeat the Crucible Horde in each stage to gain rewards. See the Reward Preview screen for more details.
Your target will only stay on the map for a limited time. You must complete the challenge before it disappears.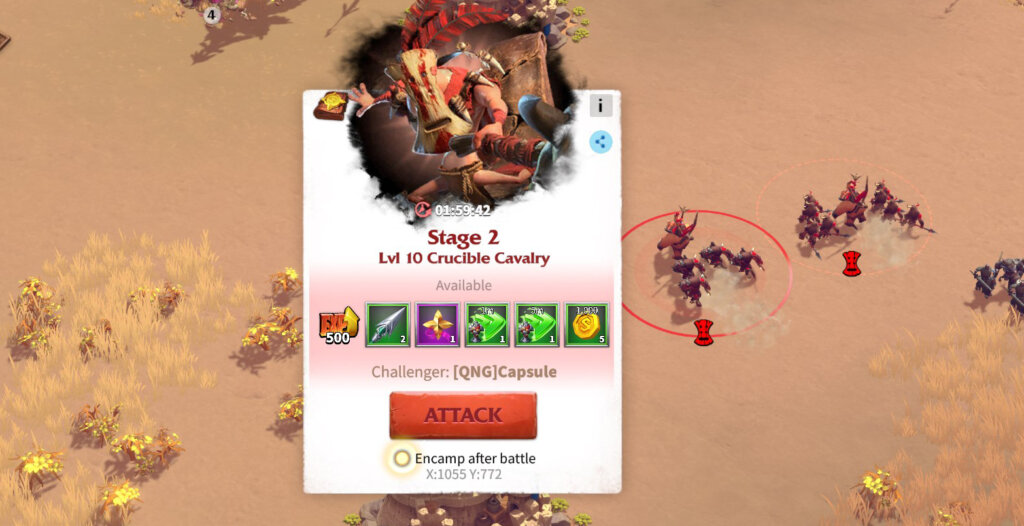 Activating a level within the Crucible of Courage will unleash the dark creatures close to your stronghold.
The event requires you to defeat these creatures to progress further to the next levels.
Once defeated, the next level is unlocked. It's essential to remember that CP (Command Points) are required in your attacks.
The beauty of this event lies is that players can deploy all 5 armies to attack these creatures. If you find yourself in a hard position, keep losing troops, or stuck at a particular level, you have the option to form a rally. In this way, getting help from your alliance can contribute to your victory. However, remember that it will cost more to launch a rally.
This event's rewards are incredibly rewarding. Expect a huge amount of speedups, resources, arcane dust, keys, and legendary hero tokens. The elite creatures you combat will relinquish ample amounts of this valuable resource upon their defeat.
Gearing up for Crucible of Courage
Preparation is the cornerstone of success for the Crucible of Courage event. Proper planning boosts your chance of finishing the event while reducing the number of your wounded troops going to the hospitals.
Ensure that your troop formation layouts are saved for faster deployment. As your troop numbers get lower, simply recall them to the city and attack once again.
Remember to always keep at least a legion battling the dark creature; failing to do so causes the event to reboot, and you will have to create a new attack. If the battle becomes hard for you, launch a rally to get help from your Alliance friends.
To get more damage in the Crucible of Courage and defeat the enemies faster:
Manastone: Always take a look at the behemoth lairs for any available attack manastones.
Boost Damage Items: If you have one, use it.
Artifacts: Equip your hero with the highest DPS artifacts.
Alliance Title: Request the DMG title from your alliance chief.
Talent Tree: Utilize the optimal talent tree blueprint for your heroes.
Selecting Ideal Heroes for Crucible of Courage
Call of Dragons has a lot of unique heroes, and while it's unlikely for you to use them all, it becomes challenging to pick out the best ones.
Consequently, here are some tips for you: Use heroes with the nuke damage, preferably those with attack range capabilities, and ensure at least one tank hero is in your squad. Tank heroes draw in the dark creatures allowing your DPS heroes to inflict maximum damage.
If you're uncertain about which heroes to deploy, consider checking out our Call of Dragons Tier List. With this strategy, you'll save troops and smoothly break through the Crucible of Courage. Should you discover additional strategies, please share your insights in the comment section.
Crucible of Courage Levels & Rewards
Stage
Rewards
5
Golden Key x1
5m Training Speedup x5
50,000 Gold x2
10
Custom Hero Token x2
150,000 Gold
150,000 Wood
15
Legendary Medal x2
Golden Key x2
60m Training Speedup
20
Custom Hero Token x2
150,000 Ore
50,000 Mana
25
Legendary Medal x3
Gold Key x3
Silver Key x2
60m Training Speedup
30
Custom Hero Token x2
150,000 Gold x2
150,000 Wood x2
150,000 Ore x2
Background
Before he can claim true glory, a true warrior must be put to the test, and be ready to spill blood upon the battlefield. In Wilderburg, there has long been an ancient custom of subjecting would-be fighters to a series of trials to prove their strength and courage. With the three factions of Tamaris now working together, this custom has expanded to accept all comers, and the War Shaman offers generous rewards to those who can fight to the end in the Crucible of Courage.