If you're a member of an alliance in Call of Dragons, you have the potential to receive an Alliance title, which can only be granted by the leader.
Though these titles provide only minimal buffs, the gathering speed buff is the most notable of them all. That said, only R4 officers can be chosen by their alliance leader to receive the four available titles.
All Call of Dragons Alliance titles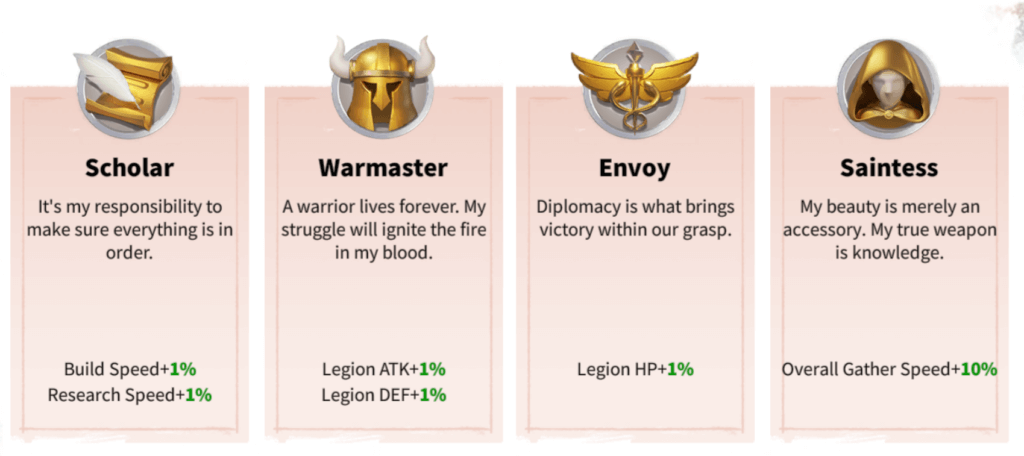 Scholar
Scholar is a great title to have if you need to construct buildings that take a bit longer or perform research that's a bit complicated.
Gaining the Scholar title will give you +1% Building Speed and +1% Research Speed, making the processes much faster.
This can be especially useful when you're close to unlocking higher-tier units or some main building levels.
Warmaster
Warmaster has a pair of buffs available to those who are willing to pay for them: +1% Troop Attack and +1% Troop Defense.
Those who do not want to have this title will not miss out and can stick to the basics of the game.
For those who do engage in frequent battles, and for those who are aiming to capture buildings or objectives, the buffs can be worthwhile.
Envoy
Envoy is offering a bonus of +1% Troop Health, similarly to Warmaster – a bonus that only players willing to get can take advantage during the battles.
Saintess
There's only one member can get the brilliant Saintess buff of a 10% Gathering Speed bonus. Unfortunately, it's not an easy task to acquire, so you must get pretty familiar with the concerns of alliance heads or do lots of work for your alliance.
Also, most alliance leaders tend to give this bonus to their farming accounts.
Getting any of the 4 alliance titles may be a difficult task due to a large number of alliance members—over 100—but for the regular player, it would be wise to forget about it entirely if you are not going serious into Call of Dragons.