In Call of Dragons, upgrading a hero skill (ability) costs Hero Tokens. The more you upgrade, the more tokens it requires.
Upgrading the hero skill to max helps a lot in all aspects of the game, especially when fighting against other players and defeating neutral units. Players who have stronger heroes win.
Call of Dragons Skill Upgrade Requirements (Hero Tokens)
| # Upgrade | Legendary Tokens | Epic Tokens | Elite Tokens |
| --- | --- | --- | --- |
| 1 | 10 | 10 | 10 |
| 2 | 10 | 10 | 10 |
| 3 | 15 | 10 | 10 |
| 4 | 15 | 20 | 10 |
| 5 | 30 | 20 | 10 |
| 6 | 30 | 20 | 20 |
| 7 | 40 | 20 | 20 |
| 8 | 40 | 30 | 20 |
| 9 | 45 | 30 | 20 |
| 10 | 45 | 30 | 20 |
| 11 | 50 | 30 | 30 |
| 12 | 50 | 40 | 30 |
| 13 | 75 | 40 | 30 |
| 14 | 75 | 40 | 30 |
| 15 | 80 | 40 | 30 |
| 16 | 80 | 50 | 40 |
| Total | 690 | 440 | 340 |
You need:
690 Legendary Hero Tokens to max out a Legendary Hero's skills.
440 Epic Hero Tokens to max out an Epic Hero's skills.
340 Elite Hero Tokens to max out an Elite Hero's skills.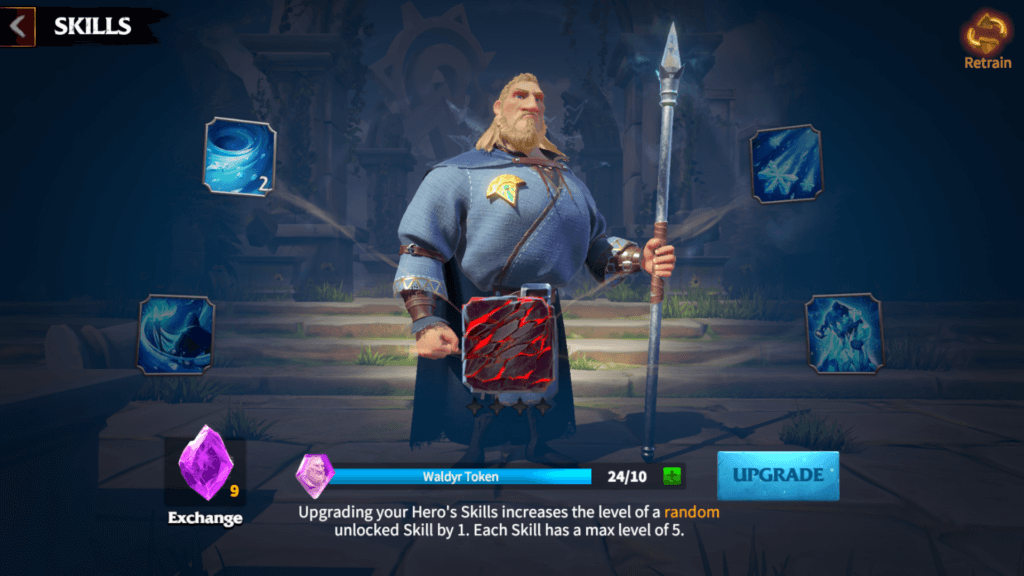 How Call of Dragons Hero Tokens Work?
Every time you upgrade a hero skill, a certain amount of tokens are required.
The amount of tokens increases per every 2 upgrades. And it takes 690 hero tokens in total to max out a Legendary hero's skills, while an Epic hero requires 340, and an Elite hero requires 240 tokens.
Different hero rarity (Legendary, Epic, Elite) requires hero token with the same rarity level (Legendary, Epic, Elite).
There are two types of tokens:
Universal Hero Tokens: Can be used to upgrade any hero skill.
Specific Hero Tokens: Can be used to upgrade only that specific hero. For example, Eliana Tokens can only be used for Eliana.

Getting hero tokens are super important right from the beginning as it allows you to make your heroes a lot stronger, giving you a lot of abilities and opportunities regarding different aspects of the game.
You should focus on getting the hero tokens right from the first day. This is not an easy task.
If you want to spend a bit in the game, we strongly recommend getting your

Liliya to 5-1-1-1 with just a few bucks, will will definitely increase your power in the game by a lot.
Whenever you upgrade a hero, you typically almost always want to max out the hero's first skill first (unless it's a gathering hero) because the first skill is the active skill, which is usually the strongest, and can proc multiple times when you fight. Maxing it out will make the most of your heroes.
Upgrading Epic and Elite heroes are usually a lot easier as you can find their tokens easily from different activities and events in Call of Dragons.

Legendary Tokens are super hard to get. That's it's recommended to work on only one Legendary first until you max out their strongest skills. Please take a look at our Call of Dragons tier list to have a general idea regarding the best heroes in the game.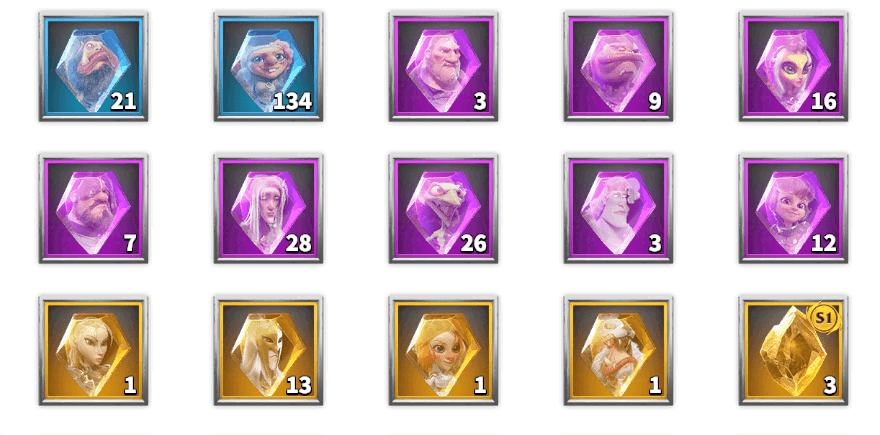 How to get Legendary Hero Tokens
As mentioned earlier, Legendary Tokens are super hard to get as a free-to-play player, so you want to save every single piece you have and make the most of them.
There are only a few ways for you to obtain Legendary Hero Tokens:
Honor Daily Gifts: After upgrading your Honor to level 8, you will get a free Legendary token of any selected hero every day. You will be able to accumulate a lot of tokens over time, along with many other buffs and free resources as well. We always recommend players getting their Honor level to 8 as soon as possible before spending Gems on anywhere else.
Dragon Trial: Get as high as possible in Dragon Trial in the shortest amount of time to get more reward per hour. Use the currency of this mode to purchase different specific hero token inside the Dragon Trial Shop. Always one of the best places for free-to-play players to master and get resources.
Events: There are a lot of events running in Call of Dragons every day but the tasks that offer Legendary Tokens are usually hard to do, so you must to have a good prep first. Anyway, it's aways recommended to focus on these events to get the final rewards as they are totally worh it, while your account's power also get increased a lot.
Bundles: You always can buy bundles if you have the money to get the strongest heroes.
Conclusion
That's it guys.
Although it takes up to 690 Legendary hero tokens to max out your Legendary hero skills. It might take months to accumulate but it's totally worth the effort as an expertise Legendary hero is just incredibly strong.
We strongly recommend getting your Honor level to 8 as soon as possible to maximize the speed.