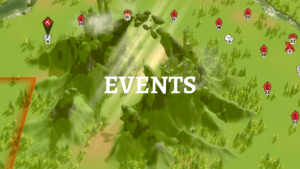 The complete list of all events in Call of Dragons!
By understanding how these events work, and the best tips for finishing them, you will be able to obtain the rewards easier and level up your account progression much faster.
All Call of Dragons Events
| | |
| --- | --- |
| Time to Act | Use Speedups to earn a lot of rewards. Duration: 2 days |
| Eliana's Crisis | Defeating neutral units to get Ceremonial Mask and summon Dark Eliana's Army to get rewards. |
| Breaking Through Event | Protect the cavaran from getting raided by the enemies while transferring goods to the destination. |
| Behemoth Hunter | Capturing Behemoths to get a ton of rewards |
| Song of Solidarity | Complete Alliance activities to get rewards. |
| Strongest Lord | Series of mini-events that last for 6 days. Complete various tasks from gathering resources, training troops, to killing to get rewards, including limited heroes. |
| Ready to Fight | Train units to get rewards. |
| Lucky Spin | Purchase ticket to spin and get a lot of valuable rewards, including Legendary heroes. |
Events are a great way to get extra rewards for doing things you should be doing anyway in the game.
When you start your account, you have an event called Road to Glory that lasts for 7 days. You should try to do as many tasks as you can in this event to get more rewards. One of the rewards is an engineering hero named

Kregg. You can get Kregg tokens from the tasks and use them to recruit him and upgrade his skills.
You can also get gold keys and artifact keys from this event. It's a good event to help you start strong. There are other events like Ready to Fight event that gives you gold keys for training troops. You only need to train 1600 troops, which is easy if you lower the troop tier for this. Or you can use speedups for it.
Another event is Divine Depository, which gives you treasure chests that you can open for speedups, resources, silver keys, and gold keys. You just have to collect resources in your city, gather resources or beat Darklings.
So pay attention to the events and join them when they are available.